Young Academy of Japan
Message from the Chair
Remodeling science and society for the next 20 years
Young Academy of Japan (YAJ), which belongs to Science Council of Japan, is composed of researchers under the age of 45 who conduct cutting-edge research in diverse fields spanning humanities, social sciences, and natural sciences. As the national representative young academy in Japan, YAJ conducts a wide range of activities for the future of science and society. The main mission of YAJ is to propose and implement solutions to various problems that the World and Japan face, as well as those surrounding young researchers, through dialogue and collaboration not only within research communities but also with the government, industry, media, the public, and young academies in other countries.
Chair: Wataru Iwasaki


The University of Tokyo

Vice-Chair: Nina Yasuda


University of Miyazaki

Secretary: Haruka Ono


Toyohashi University of Technology

Secretary: Manabu Matsunaka


Nagoya University
Bylaws
Organization
Members
Young Academy Meetings
Subcommittee of Young Academy
Reports
Notes
Activities hosted by Young Academy
Articles of Young Academy *Trends in the Sciences
Logo of Young Academy of Japan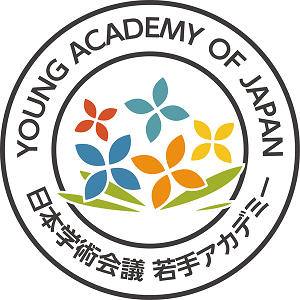 The logo was designed by Dr. Tomoya Hanibuchi, a member of Young Academy of Japan, in 2018. The interdisciplinarity and enthusiasm of YAJ are represented by the flowers and leaves.
The logo can be used for promotional activities of Young Academy of Japan.
Inquiry about its usage must be sent to the chair, vice-chair, or secretaries.
The logo can be resized, but its color and aspect ratio cannot be altered.
Links